Boat Show 2018 – The arrival of the ABJET
Everybody, who ever organized a mayor event before, knows how much time and work goes into preparing a stand for a fair. Also this year´s Palma International Boat Show kept us on our toes. Short term changes due to organizer's restrictions, electricity short cuts and the always changing April weather were just a few things, which never gave us a boring moment. But at the end of the day, or to say it better at the beginning of the start day of the show, you stand in front of your stand and a feeling of pride overcomes you. This year, we were definitely happy with the result of our work.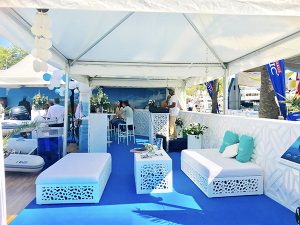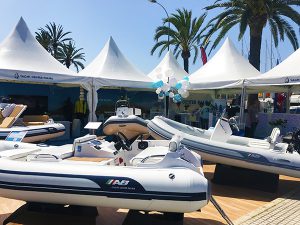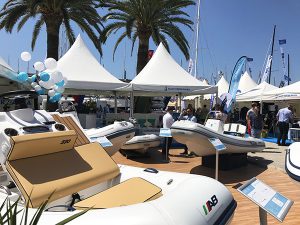 The new ABJET
Yacht Center Palma managed to create a nice lifestyle stand combined with the exposition of some of our tenders for sale, as well as the presentation of our business partners in a separate tent right next to the main stand.
The star of our stand was definitely the newly arrived ABJET 330. Many interested people came to see this new luxurious tender and our sales team was always to happy to explain to everybody, what makes this tender and especially his Rotax motor so extraordinary. Also one of the sales representatives from ABMarineGroup, Ernesto Juliao, joined us for the 5 days of the fair and was proud of the huge interest that the new jet tenders created.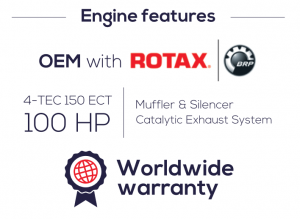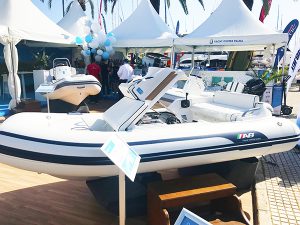 New cooperation with Seilflechter GmbH
But the successful partnership to AB inflatables wasn´t the only highlight for Yacht Center Palma. We also sealed a new business cooperation with Seiflechter GmbH from Germany. They will supply us with a yacht and sailing line assortment, which will be the largest selection on Mallorca, as well as with mooring lines and a huge range of stainless steel. It's a great deal for everybody! Did you want to order these German top quality products before, you always had to expect a longer waiting time due to the transport from Germany. Now, everybody can get his supplies right out of the warehouse of Yacht Center Palma. Also our long existing partners from SeaHawk, SPW and Fender Design were part of our stand and were happy to advise all our existing and new clients on the high quality products they have.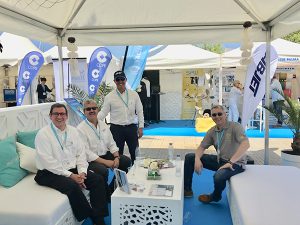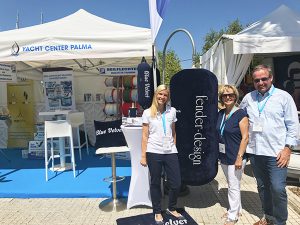 The right entertainment is just as important
But as we always say, boat shows are never only serious, but have to be fun as well. Not only for the colleagues and business partners, but also – or especially- for the visitors. Because of that we hired the passionate Batucada group Bateria Fogosa, who put up a fantastic show and animated more than just a few visitors to dance to their samba rhythms. On Friday and Saturday, they put a big smile into peoples faces. But off course also the physical well-being of our guests needed to be taken care off. Hotel Hostal Cuba served drinks from a bar in our tent and on Saturday we had one of Mallorcas most famous "cortador de jamón" (a professional ham cutter) in our tent, spoiling our clients with delicious jamón. From 3 PM on, there was also a DJ providing us with good music.
What else could be there to say? We enjoyed spending time with our new and existing business partners and customers, with all visitors showing interest in our products and services, as well as with the colleagues.
We hope you had as much fun as we did and are looking forward to the next show and seeing all of you again!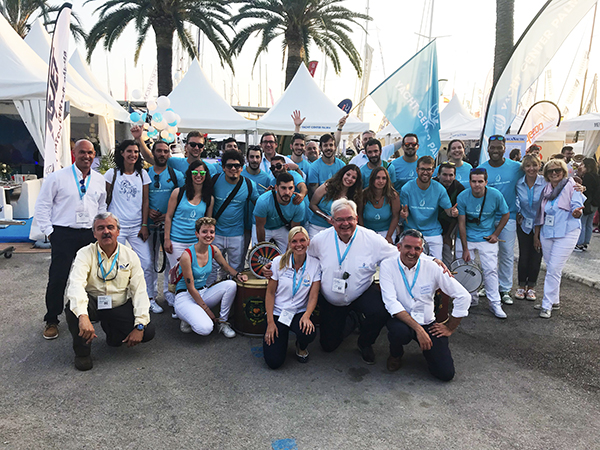 Impressions from our stand: